Last nite, before tido aku dah iron baju... So, pagi ni bangun relax sket... Took my shower and baca paper jap... Pastu turun Lobby for breakfast... The usual fruits, yoghurt and low-fat milk... Tengahari, makan sebiji pisang as always... Hari ni banyak pulak keje aku... Brigitte dah inform that I might have to come on Saturday and Sunday... Adehhh...
I went back not so late from office, but not as early as the past few days... Aku ajak Sue temankan jenjalan... Nak tengok warm clothing... Sue suggested pegi COEX, which is just 2 stations away from the nearest subway... So malam ni takde lah aku tido tanpa arah tujuan... heheheh...
Sue sampai around 7.10pm... Pas borak2 kejap, we left the room... Walking to the station, malam ni kurang sejuk as compared to last nite... COEX ni Samseong punye tempat... A big building, which is quite the same as Kuala Lumpur City Centre... kitorang cuci mata dulu, then we had dinner... makan seafood noodle and green tea...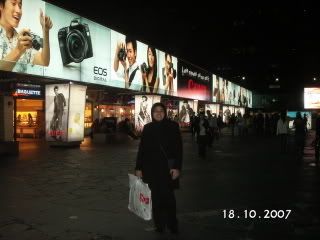 Lepas makan, aku ngan Sue pusing2 shopping complex tu... Cari warm clothing, baru usha dulu... once dapat approval, sedap laa aku tenyeh AMEX beli baju sejuk... USD300 tu leh claim... I bought few things tonite... Kusyen kulit Hello Kitty... Thinkpad punye Mini Dust Brush... and pengikat cable... dan susu perisa strawberi... and susu perisa kopi... Hopefully aku tak diarrhea macam masa try minum susu kat Japan itu hari... hehehhe...
Thanks to Sue again yang tak jemu melayan kak lisa... Norsi, sorry... Kak Lisa tak berani nak kacau... Takut Norsi tengah busy... Nihonggono bengkiyo'o shimashtaka...
Well, tu je lah laporan berita untuk malam ini... Saya sudahi dengan ucapan selamat malam...